Press and Media
Exhibition catalogue – November 30, 1995
One-man Show at the Museum of Modern Art Otaru, Japan, 1996
METAPHORICAL PRINCIPLE OF GOTTFRIED HELNWEIN
Rousing the audience's curiosity, the painting invariably surprised viewers when exhibited as part of Gottfried Helnwein's retrospective exhibition held at the State Russian Museum in St. Petersburg.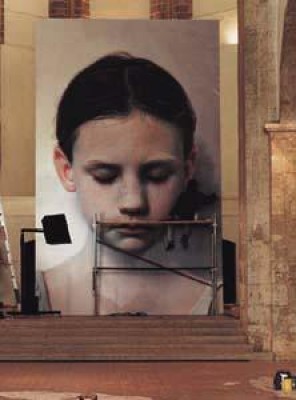 "Kindskopf (Head of a Child)" caused the audience to question whether the work was actually a painting or a photograph. Such reactions were typical among the audience, reflecting their naivety.
The works of Gottfried Helnwein are technically classified as hyper-realism (surpassing super-realism) and at first glance are practically indistinguishable from photographs. Though realistic in terms of technique, most of Helnwein's works are characterized by metaphorical implications.
Among his works, for example, is a painting of a man blindfolded with a bandage around his head. Featured in magazines and newspapers worldwide, looking at this painting may have caused people to feel its unheard cry.
Throughout most of Helnwein's work is the basic principle of realism laced with metaphor. Viewed in this light, this basic principle can be considered, in a sense, metaphorical under the guise of realism. On the contrary, photographs by Helnwein look like paintings with implications.
Helnwein's portrait photograph subjects are celebrities from newspapers, magazines, TV and movies, and show no difference from other photographs taken of the same individuals. Through his photographs, Helnwein seems to confirm already fixed stereotypes. In collection form, his photographs seem to form a visual series of work. The same applies to his famous reproduction of composition, such as that of Andy Warhol's work; Helnwein effectively breathes new life into familiar works and reproduces them.
Included in all of Gottfried Helnwein's work, this basic principle demonstrates a reflection of the aesthetics of popular culture and irony, and represent Helnwein's major outlook on the world.
Gottfried Helnwein is endowed with perfect pitch and distinguished sense of contemporary issues. As a painter whose art deals with issues confronting human society, Helnwein creates a new standard of measuring modernism.