Press and Media
– April 1, 2009
"Helnwein - The Silence of Innocence"- video on Google
"Helnwein - The Silence Of Innocence" (Claudia Schmid, Germany 2008, 116 min), has been selected for the 24th international Munich Documentary Filmfestival.
Uncompromising, shocking images that bore deep into our collective subconscious and confront our greatest fears – the unihibited creative talent of artist Gottfried Helnwein.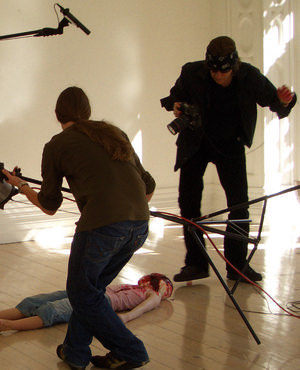 Gottfried Helnwein is an artist of clear statements, uninhibited and idiosyncratic. He confronts us with the dark sides of human nature. Silently but mercilessly he uses the fate of the innocent child to bring before our eyes the human capacity for suffering, making the beholder a passive, and indeed active, accomplice to injury and abuse. Helnwein is one of the world's best-known and at the same time most controversial German-speaking artists of the post-war period. Helnwein is an artist who thinks in political terms, analyzing present and historical world events and revealing, there too, the structures of power and violence. His pictures are an ongoing appeal against collective amnesia, deliberate or otherwise.
DOKFEST, The Helnwein film at the 24th international Munich Documentary Filmfestival
Video-clips:
"Helnwein - The Silence of Innocence" - Youtube
"Helnwein - The Silence of Innocence" - English subtitles, dailymotion
"The Silence of Innocence" film in facebook
CREDITS
WRITTEN & DIRECTED BY - CLAUDIA SCHMID
CAMERA - SUSU GRUNENBERG
SOUND - JENS KRäHNKE
EDITING - KAWE VAKIL
SOUND MIXING - CHRISTOF GLADE
COLOUR CORRECTION - DANY SCHELBY
SUBTITLES - RALPH SIKAU, PARABOL PICTURES
PRODUCTION MANAGER - MONIKA MACK
PRODUCER - BIRGIT SCHULz
COMMISSIONING EDITOR - REINHARD WULF
PRODUCED BY BILDERSTURM
FILMPRODUKTION IN COPRODUCTION WITH WESTDEUTSCHER RUNDFUNK (WDR)
COLOUR, PAL, 16:9, 116 MIN.
©2009