Press and Media
San Francisco Chronicle – December 26, 2004
CRITICS CHOICES 2004 - HELNWEIN
Arts and culture
TOP 10
Gottfried Helnwein, "The Child" Palace of the Legion of Honor (July). In the first of two shows (the other at the Modernism Gallery in November), Helnwein's large format, photo-realist images of children of various demeanors boldly probed the subconscious. Innocence, sexuality, victimization and haunting self-possession surge and flicker in Helnwein's unnerving work.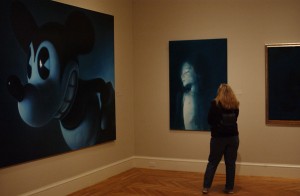 Gottfried Helnwein : "The Child", works by Gottfried Helnwein
"The Child", works by Gottfried Helnwein 2004
one man show
San Francisco Fine Arts Museum
Palace of the Legion of Honor
Alvin Ailey American Dance Theater Zellerbach Hall (March). Opening night of the touring company's Cal Performances run overflowed with power and grace. Alonzo King's expansively beautiful "Heart Song" was the centerpiece of a rich, varied and propulsive program.
San Francisco Ballet, "Sylvia" Memorial Opera House (April). Choreographer Mark Morris revisited Delibes' neglected full-length tale of abduction and redemption in a splendidly shaped production. From forest to cave to glittering seaport, the story spanned emotional temperaments and choreographic styles in a soul-stirring fable.
Mahler Symphony No. 2 San Francisco Symphony, Davies Symphony Hall (June). It's happened again and again in the San Francisco Symphony's performances of the Mahler symphonies, a journey to the mountaintop led by an inspired Michael Tilson Thomas. None was more memorable than this transporting concert, with peerless vocal contributions by soloists and chorus.
"Courtly Art of the Ancient Maya" Palace of the Legion of Honor (September). Jaunty stone gods, dainty ceramic ballplayers and swirling snakes come swarming to life in this dramatic exploration of Mayan life. More than a collection of fine objects, this ideally mounted show (through Jan. 2) conveys the amplitude of an entire culture -- its aspirations, fears and day-to-day toil and joy.
"The Secret in the Wings" Berkeley Repertory Theatre (September). In another of Mary Zimmerman's choice theatrical escapades, spooky and winsome fairy tales piled up in glorious profusion. The show took viewers to a delirious, frictionless realm of imagination and filled it with palpable, weirdly plausible delight.
Thomas Quasthoff and the San Francisco Symphony Davies Symphony Hall (September). The German bass-baritone made his Symphony debut in five Schubert songs that managed to express a good deal of what it means to be human. By turns giddy and gloomy, peevish and full of awe, Quasthoff found the telling pulse in every phrase.
Gyorgy Ligeti, "Le Grand Macabre" War Memorial Opera House (November). In this grand and goofy spectacle, the San Francisco Opera served up the year's most absorbing night of music theater. Superb direction and design brought out the dramatic values in this coy, potent fable about love, the end of the world, astronomy, the nature of fictional characters and more.
"Sideways" Bay Area theaters (November). Like the California wines it celebrates, director Alexander Payne's wonderful buddy film is heady, complex, ravishing in the moment and delightful to savor when it's through. Payne loves his characters enough to see them in three dimensions; they're funny, flawed, hapless, hopeful and never less than fully real.
Wesla Whitfield Empire Plush Room (December). In a 25th anniversary run, the great cabaret singer has never sounded better. A program of carefully chosen songs, subtly brilliant arrangements (by pianist Mike Greensill) and the singer's suave technique and expressive nuance made for an ideal musical toast to the passing of another love, another loss, another year.
E-mail Chronicle Arts and Culture Critic Steven Winn at swinn@sfchronicle.com.
26. December 2004 San Francisco Chronicle Steven Winn