FLAUNT MAGAZINE – March 19, 2003

Larger-than-life artist Gottfried Helnwein's exhibitions have been protested, banned, vandlized, and honored for the last 35 years.
If you are already familiar with Gottfried Helnwein then you proably knew more than I do about art, and I apologize on behalf of the commercially saturated masses.
Helnwein is a ridiculously talented artist. That is basically all you need to know. Anything you could imagine art doing for you, or to you, any feeling it might instill in you or emotion it might remove from you, he captures, then cripples, reformats, and pastes into the cleft pallet of a 20-foot-tall gray-scale rendition of a deformed fetus soaking in formaldehyde.
The essence of realism and ability that every art major ever clamored to grasp, he manages to expel onto canvas with apparent ease. He produces paintings, and photographs that you can't help but wish you could recreate with the same vision, depth, and intrigue. His art is without gimmick and his persona is without persona.
Helnwein is simply someone who enjoys creating, and has been doing a pretty damn good job at it for 35 years.
Artweek, Volume 33, Issue 10 – December 1, 2002
This was the moment when I sensed for the first time," Helnwein has since written, "[that] you can change something with aesthetics, you can get things moving in a very subtle way, you can get even the powerful and strong to slide and totter, anything actually if you know the weak points and tap at them ever so gently by aesthetic means." For the following three-and-a-half decades he has relentlessly pursued that goal, masterfully incorporating everything from painting to performance to photography, regularly causing art world outcry and public fury. Yet as his knockout exhibition at Modernism last October made clear, his art is successful less for its evident tendency to provoke than for its extraordinary ability to perplex. ...
Frankfurter Rundschau – 1. Dezember 2001
Marlene Dietrich
Am Ende ihres Lebens schloss sich Marlene Dietrich von der Welt aus. Zu den sieben Freunden, die sie in ihrer Pariser Wohnung besuchen durften, gehörten der Maler Gottfried Helnwein und seine Frau Renate. Sie erzählen von ihrer Freundschaft zu der Diva, die am 27. Dezember 100 Jahre alt geworden wäre.
Ireland on Sunday – August 26, 2001
at the Kilkenny Arts Festival, 2001
A controversial "Nazi" image by artist Gottfried Helnwein was daubed with red paint last week as Kilkenny Arts Festival entered its final days.
The Irish Times – August 20, 2001
AT THE KILKENNY ART FESTIVAL, 2001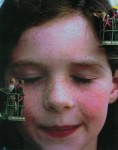 The point of the images is that they put it up to you as a viewer. Given that, one potential line of criticism is that they are designed solely to be provocative, like Marcus Harvey's portrait of Myra Hindley. But the abiding strength of Helnwein's work is that provocation is a means rather than an end; it is - however uncomfortable - morally grounded, if not necessarily in a way that will please all observers.
The Irish Times – August 13, 2001
AT THE KILKENNY ART FESTIVAL, 2001
The canvases showing images from the Nazi era just left them confused, but the throngs who visited Kilkenny during the weekend snapped away with their cameras all the same.
THE IRISH TIMES – August 7, 2001
Installation and one-man show at the Kilkenny arts festival

Workmen finish one of a series of prints measuring 9.3 metres by 6.2 metres by Austrian artist Gottfried Helnwein.The prints of Kilkenny children will hang on buildings in Kilkenny as parts of its arts festival beginning on August 10th.
THE SUNDAY TIMES – August 5, 2001
Installation and one-man show at the Kilkenny Art Festival 2001

The disturbing Work of Helnwein comes to Ireland
Helnwein is a headline artist who works in tight sound bites on a very large scale.
The works brand themselves with proof of his technical know -how in various media and are endorsed by the coolest celebrities of his generation.
So much for the cover-story, so what lies within?
Headlines lure you into stories that make you want to cry, smile or help to change the world.
But when they stop at your own skin, you can get a sinking feeling, a sense of the bigness and badness outside and the impossibility of change.
The Irish Times – August 1, 2001
ONE MAN SHOW, AN INSTALLATION IN KILKENNY, 2001
While it is a painting, Epiphany is typical in its almost interchangeable use of photography and painting: both played their part in the achievement of the eventual, quasi-photographic image.
He is a fine photographer, and his photographic portraits of Kilkenny children (enlarged to an enormous scale) form one strand of his festival exhibitions.
The careful adaptation of existing imagery is another trait, and his references extend back through fine art history as well as history itself ...
Irish Independent – July 31, 2001
ONE MAN SHOW IN KILKENNY, 2001
Once an agitated spectator wondered how an apparently nice man could produce such disturbing imagery.
Helnwein replied: "What bothers you is the pictures that get triggered in your own head."
Perusing a catalogue of his work in preparation for a meeting is a journey through disgust, fear, fascination and admiration to finally - almost - attachment.