Jewish Chronicle, London – June 2, 2000
ONE MAN SHOW, ROBERT SANDELSON GALLERY, LONDON, 2000
Artist's haunting Nazi-era Images
Austrian artist Gottfried Helnwein's powerful and haunting paintings provide a disturbing commentary on Nazism and the Holocaust, regularly provoking outraged reactions from right-wingers in his native land and in Germany.
"I was amazed how much pictures could reach into the hearts and minds of people - and how much they would talk to me about it," he told the JC.
"For me, art is like a dialogue.
My art is not giving answers, it is asking quesitons."
Haaretz, Israel – May 31, 2000
one-man show, Robert Sandelson Gallery London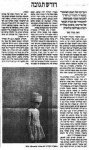 Dazed and Confused,London – May 31, 2000
LONDON, 2000
Helnwein, the controversial Austrian artist whose works is currently on show at the Robert Sandelson gallery in London, has always been a difficult personality to pin down. As a young man in 1969, when most Western teenagers were smoking dope and taking acid, he was busy speaking out against the latent fascism embedded at the heart of Austrian society. A keen believer in the value of expressive freedom, he was expelled from the experimental school of the Higher Graphic Institution in Vienna for painting a portrait of Adolf Hitler in his own blood.
What's On London – May 17, 2000
LODON, 2000
A blond Madonna, dressed as if she were spending an evening at the opera, presents her child to the watchful eyes of Nazi SS Guards, One officer looks as if he were studying the child's genitals, perhaps to see whether he has been circumcised. Dark hair parted severely to one side and fleshy baby cheeks lending a slight and comical hangdog expression, the young child presents something of an eerie resemblance to the Führer.
The Daily Telegraph – May 16, 2000
Lou Reed at his exhibition at the Robert Sandelson Gallery in London

A perfect stay: gallery opened specially for Lou Reed
The Guardian – May 16, 2000
Robert Sandelson Gallery, London
Kate Connolly meets Gottfried Helnwein, the Austrian who is still confronting his country's Nazi past
It could have been worse. At least he doesn't look like his self-portraits, in which bandages swathe his head, bent forks pull his mouth into a mocking smile and blood drenches his torso. Helnwein, 52, is a master of the scandalous and the art of shocking. The artist Robert Crumb once said of him: "Helnwein is a very fine artist and one sick motherfucker."
"You can get things moving in a very subtle way, you can get even the strong and powerful to slide and totter - anything, actually, if you know the weak points and tap at them ever so gently by aesthetic means."
i-D Magazine, London – April 30, 2000
LONDON. 2000
The current issue of Camera Austria consists entirely of blank, black pages, with "österreich 2000" written simply in the top right hand corner of each. Nothing demonstrates more effectively the shock of Austria's artistic community at the electoral success of Jörg Haider and his right wing Freedom Party, but this does not apply to Gottfried Helnwein.
The Irish Times – February 16, 2000
The Irish Times
The controversial work of Austrian artist Gottfried Helnwein, now resident in Ireland, explores the lingering Austrian loyalty to Nazism. He speaks to Mic Moroney.
TANK Magazine , Volume 2, Issue 2 London – January 31, 2000
"The American Paintings" One Man Show, Modernism Gallery San Francisco, 2000
These paintings are about America, I guess from a very European point of view.
DER SPIEGEL online – 28. Juli 1999
Spiegel-Interview mit Lou Reed zum Thema Fotografie
Reed: ...Ich muss jetzt los. Sie haben mich noch nicht nach meinen Lieblingsfotografen gefragt.
kulturSPIEGEL: Also ?
Reed: Nan Goldin, Anton Corbijn, Cindy Sherman. Und Gottfried Helnwein. Ich liebe Gottfried Helnwein.