FLASH ART, The World's Leading Art Magazine Vol. XXX – November 30, 1996
RETROSPECTIVE AT THE STATE RUSSIAN MUSEUM ST. PETERSBURG 1997
Austrian-born artist Gottfried Helnwein is a brave, often overlooked, and unfairly compared virtuoso of versatility. In his work, he forces us to confront, via his visual wit, brio, and candor, the human face of violence and angst.
The recent solo retrospective of over 400 works on view at the Marble Palace, the contemporary wing of the Russian State Museum in St. Petersburg, proved Helnwein a master of many forms: from painting to installation, from photography to illustration, from sculpture to performance. His flexibility is so impressive that he almost seems a hoax.
The Japan Times – November 9, 1996
Provocative emotions in your face
The Gottfried Helnwein seen on the poster advertising his show and the Gottfried Helnwein viewed in person seem to be a study in contradictions. With his head bandaged and eyes literally pierced by two forks, the poster Helnwein shatters glass with his seemingly torturous cries. In person, Helnwein's taut skin is unblemished; his personality, approachable and warm. But as he begins to talk, it becomes clear that he is indeed the creator of the madman.
Kölner Stadt Anzeiger – 30. November 1995
collector Ludwig donates major works to the State Russian museum in St Petersburg,Russia
Peter Ludwig schenkte Museum Helnwein-Bilder
"Anna aus, ich glaube, Kiel", war die unübersehbare Hauptfigur bei der Eröffnung der Ausstellung des österreichischen Malers Gottfried Helnwein im Russischen Museum in Sankt Petersburg.
Wenn Kunst aus dem Westen den Weg nach Russland findet - um dort zu bleiben -, stehen zwei den Petersburgern inzwischen wohlbekannte Namen dahinter:
Irene und Peter Ludwig, die dem Russischen Museum wieder eine Schenkung gemacht haben.
Mit jeder seiner exakt gezeichneten Hautporen und jeder Wimper ist dieses Kind Subjekt - und nicht nur einfach Objekt für einen Maler, der Gigantismus mit Detailversessenheit kombiniert. "Menschlichkeit im Riesenmass", interpretierte Ludwig das Bild.
Sonntagszeitung, Zurich – 11. Dezember 1994
DER ÖSTERREICHISCHE MALER UND FOTOGRAF MACHT SICH FÜR DIE ANERKENNUNG DER DISNEYSCHEN SCHÖPFUNG ALS KUNST STARK.
Helnwein, 46, ein Meister der Provokation, hält Walt Disney für so bedeutend wie Leonardo da Vinci und Rembrand.
The Gazette, Montreal – November 30, 1993
one-man show, Centre International d'Art Contemporain de Montreal, Quebec
To inaugurate the new exhibition space, which has to be one of the most dramatic in the city, Gosselin chose a powerful show of black-and-white photos by the Viennese-born German artist Gottfried Helnwein. Helnwein's work is everything that Annie Leibovitz's, shown last spring at the Montreal Museum of Fine Arts, is not. While both shoot celebrities - Helnwein's subjects include Keith Richards, Michael Jackson, Mick Jagger, William S.Burroughs, and an extremly wasted Andy Warhol - Helnwein's work is concentrated on the Psychological rather than on the gimmicky and the theatrical.
Die Welt – 29. März 1993
"Faces",One-man show, Rheinisches Landesmuseum,Bonn
Natürlich möchte man wissen, wie Helnwein sich von anderen bedeutenden Kameraportaitisten unterscheidet.
Er vermeidet die Idealisierung eines Yousuf Karsh, die Entblössung eines Richard Avedon, das kühl-komponierte grafische Arrangement eines Irving Penn. Helnweins Stil ist die freie Auswahl seiner Modelle, wobei sich jedes Bild zu einer neuen persönlichen Auseinandersetzung mit seinem Gegenüber formt.
Sein Stil ist die Freiheit der Annäherung, Kein eintöniges Schema, sondern immer faszinierende Premieren.
Art News,New York – October 31, 1992
one-man show at Modernism Gallery, San Francisco
Gottfried Helnwein follows the lead of his older Viennese contemporaries
Arnulf Rainer and Hermann Nitsch in staging masquerades of suffering for
the camera. He is the principal performer in his tableaux, some of which
he translates from photograph into painting. Helnwein's first San
Francisco show at the Modernism, came well past the moment when art
seemed a fit vehicle for facile protestations of disgust at 20th-century
history, especially those twisted with irony.
LE FIGARO – October 28, 1992
one-man show, Goethe Institut, Centre culturel allemand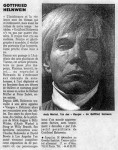 TZ, Muenchen – 2. Oktober 1992
One-Man show, Muenchner Stadtmuseum, 1992
Hier geht's mitten ins Gesicht: Unter Gottfried Helnweins Fotolinse wird Charles Bukowskis markante Nase zum miniatur-Vulkangebirge. Auch Keith Richards, Mick Jagger, Andy Warhol, Elton John, Michael Jackson und mehrere Dutzend andere Leuchtsterne der Beat- und Pop-Kultur haben fuer Helnwein ihren Kopf hingehalten: Das Muenchner Stadtmuseum zeigt bis 31. Oktober rund fuenfzig hinreissende Schwarz-Weiss Fotopotraits des Wiener Schock-malers und Hyper-Realisten.
San Francisco Chronicle – July 9, 1992
An artist reminds society of its past
Frankfurt, Germany.
It was night on the Autobahn and I was going to see Gottfried Helnwein, an artist known as "The Razor-Blade Rembrandt."
The artist's assistant, Heinz, was pushing the new Mercedes to 100 miles an hour.
This unnerving high-speed delivery, on a highway built by Hitler, seemed an appropriate prelude to meeting an Austrian whose art is a biopsy of post-war Germany, with references to resurgent fascism, mass insanity, suicidal depression and childhood trauma.